Bozo, (you guessed it) in "happier times
."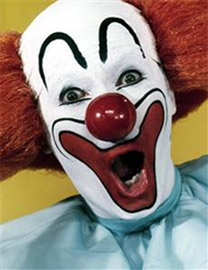 Larry Harmon
, aka
Bozo the Clown
, died today of congestive heart failure at the age 83. His publicist said he died quietly at home in full clown make-up. Okay, I made that up, he didn't have his make-up on. I LOVE how no one just says "Bozo." They say
BOZO THE CLOWN
, like you need to say
the clown
.
Larry wasn't the original Bozo, but he believed the clown could become a major star, so he bought the licensing rights to the character. Eventually, he licensed Bozo out to dozens of TV stations.
His wifey of 29 years said, "He was the most optimistic man I ever met. He always saw a bright side; he always had something good to say about everybody. He was the love of my life."